Experience the Buz WebCommunicator
Keep Members Engaged with an Industry-Leading Online Platform
The Buz WebCommunicator provides private club managers with everything they need to give members a seamless online experience. Build an attractive, custom club website with a private member log-in portal and connect with members using automated email, SMS text messaging, and online communication tools.
Request a Demo
One of our experts is ready to give you a one-on-one demo of the of the Buz WebCommunicator.
Explore the Buz WebCommunicator
Content Management System (CMS)
Create an attractive, custom website with the Buz WebCommunicator CMS
to better represent your private club online. Manage the content,
look, and feel of your digital platform.
Custom Websites Designed & Developed by Buz Club Software
Fully Responsive for Desktop and Mobile Accessibility
Create & Manage Unlimited Webpages
Over 40 Built-In Page Templates Designed Specifically for Clubs
Built-in Private, Staff and Governance Portals
Easy-to-Use Rich Text Editor with Live Spell Check
Advanced Form Builder for Data Collection
Built-In Search Engine Optimization (SEO) Tools
Google Analytics, Maps & Webmaster Tools Integration
Secured SSL website
Administrative Roles & Permissions
E-Commerce Ready
Single Sign-On Integrations
Site Search Capabilities

Explore the Buz WebCommunicator
Member Portal
The Buz WebCommunicator Member Portal provides management with
a secure area for exclusive member activities and club communications.
Member Desktop
Secure Groups for Committees, Boards, etc.
Event Calendars & Event Exports
Built-In Event Sign-Up
Member Email Verification During Sign-In
Member Account Updates with Opt-Out & Privacy Options
Special Interest Group Subscription Pages
Forums/Bulletin Board System
Online Member Statement & Bill Payment
Member Roster/Directory Search
Explore the Buz WebCommunicator
Member Communication
Our communication tools allow you to maintain and build strong relationships
with your members. Send out club newsletters, event reminders, updates,
and more via email or SMS to keep members engaged.
Broadcast Email Marketing & Analytics
Text Message (SMS) Marketing Tools*
Built-In Anti-Spam Validator
Member Inbox
Create Targeted Recipient Lists via Upload, Search, or Custom Filter
Scheduled Email Delivery
Built-In Email Notifications
Track Views, Opens & Clicks in Emails & SMS*
Create a Unique SMS Send Number for Your Club*
Create Custom SMS Short Codes
* This feature is available as an add-on or integration. Explore our comprehensive
Add-On Library to further customize your club management software.
Explore the Buz WebCommunicator
Event Registration
Create dynamic registration forms including custom member and event fields.
Provide your members with an easy way to register and manage their event
participation. Integrates beautifully with email reminders and member payments.
Create & Manage Event Types, Venues & Statuses
Customize Payment Options & Registration Templates
Give Members Freedom to Pay for Events Online
Create Custom Registration Forms to Capture Specific Information
Set Booking & Reminder Dates for Each Event
Set Specific Event Registration Restrictions & Costs
Create Automatic Event Confirmation & Waiting Lists
Admin Access to Register Attendees Directly in the System
Create Email Notifications of New & Updated Registrations
Built-In Statistical Reports, Participant Lists & Function Sheets
Easily Export Payment Information to Third-Party Accounting Programs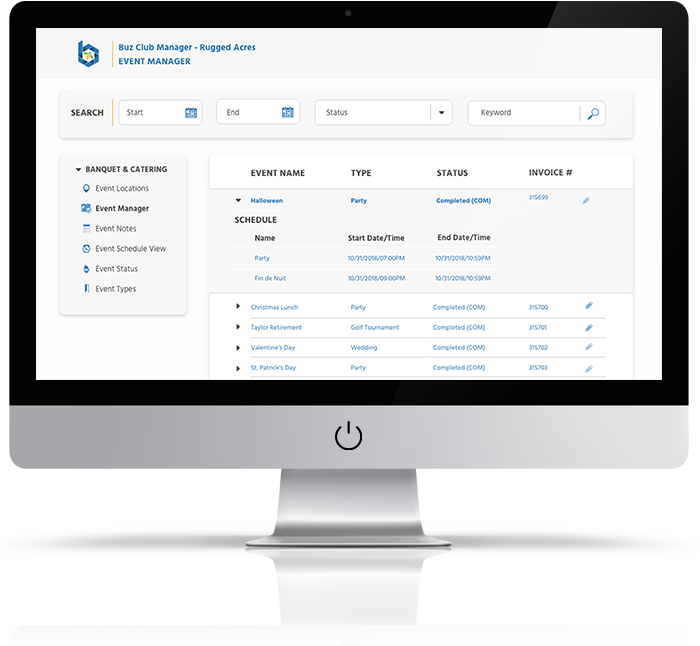 Here's What Our Customers Say About the WebCommunicator
---
"We have been a client of Buz Software now for over 4 years, utilizing all of their available modules, tee sheet, accounting and website. We are thrilled with the results of our recent website redesign and have received many compliments from our Club members and the public. As is always the case when working with Buz, the conversion to a fully responsive website went without a hitch. From the initial meetings to discuss layout and requirements, to final implementation, Buz listened closely to our feedback throughout the project and was able to include everything we wanted. It is always a pleasure working with the Buz team of professionals."
? Kirsten M., Controller, Carrying Place Golf & Country Club
"A huge benefit from a management perspective was the options in how members can pay. They can still send a check in, they can pay online with one-time payment, or we can have auto-pay every month and we have members that utilize all three of those systems."
? Victor B., General Manager, Lookout Mountain Club
"A member could go from the pool, from the dining room, from the golf course, go home or go to the website on their phone and look at the charges immediately hitting their account because it's live. That was a very positive thing from a management perspective."
? Victor B., General Manager, Lookout Mountain Club
Find the Perfect Pricing Plan for Your Club
---
Buz Club Software offers sophisticated, cost-effective club management software solutions. Find the perfect plan for your private club.
Pricing Plans
Explore the Buz Club Manager (BCM)
Keep your club running smoothly with the Buz Club Manager (BCM). Our fully integrated back-office applications are specifically designed for private club administrations and management to optimize their operations.
Explore the Add-On Library
Find the perfect add-ons and custom integrations to elevate your private club. The Add-On Library includes everything from our full golf club management collection and SMS messaging to banquet management and beyond.